10 Things You Probably Never Knew About Utah
Posted by Sam Dodd on Sunday, August 9, 2020 at 9:52 AM
By Sam Dodd / August 9, 2020
Comment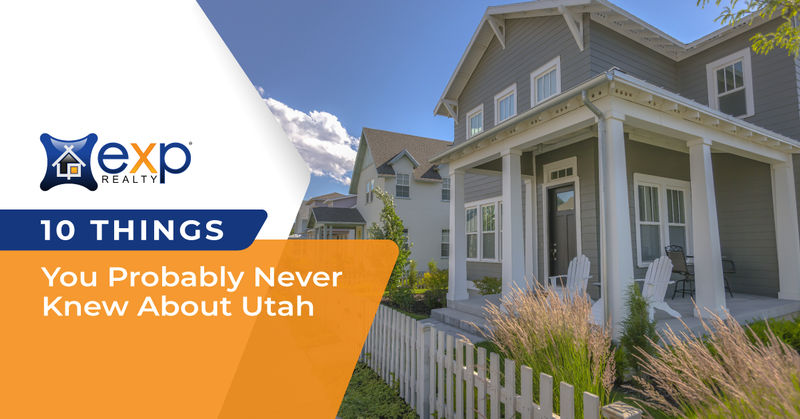 Living in or visiting the state of Utah is a very popular option for a lot of people. Most people are aware of the good local economy, great outdoor recreational activity options, and other amenities in the area. However, the state also has a very rich history as well. There are ten interesting facts about the state that you likely did not know, which helps to make it a great place to work and visit.

Immense Size of Salt Lake
One fact about the state that a lot of people are not aware of is how large the Salt Lake is. While the Great Salt Lake is a major landmark in the state and rest of the country, it is extremely large and the acreage of it is actually larger than the entire state of Rhode Island. This provides plenty of great amenities for those that live in the area including boating, fishing, and other activities.

A Lot of Forestry
A lot of people come here to take advantage of the outdoor parks and nature areas. However, it is impressive how expansive this area actually is. In fact, every single county in this state has some national forest park within it. This ensures you have access to a lot of great natural beauty no matter where you live in the state.

Early Adapter of Women's Rights
Women's Suffrage was a very important movement that ensured women had the right to vote and had all other civil rights afforded to me. While this national push was needed for most states to provide this right, those that reside in this state were actually given the right much earlier. In fact, women here were able to vote up to 50 years prior.

Great Skiing Location
If you enjoy skiing, heading here is a great option. The Park City area continues to be one of the top skiing destinations for those in the country. This has a range of ski runs that are ideal for those with all skill levels. There are also a number of resorts and spas in the area that make it a great place to visit any time of year.

Large Sports Following
For sports fans, there are plenty of great sports options to enjoy. One of the premier teams in the state is the Jazz, which is part of the NBA. There are also a number of semi-professional baseball, hockey, and football teams that are a lot of fun to watch for any avid sports fan.

Huge Range of Weather
Due to this size of the state and unique topography, the state has some of the wildest weather in the country. During the summer months, the hot weather can rival the neighboring states of Arizona and Nevada. During the winter in the northern mountains, the cold weather can be as bitter as any that you would find in Minnesota.

Well Educated State
There is a range of top colleges and universities as well as some very well-rated public school systems for children and teens. This education system has translated into a higher literacy rate than any other state in the country.

Statewide Celebrations
When you are coming to the state, you should base your trip around some of the statewide celebrations. One of the most popular events in the state each year is Pioneer Days, which takes place in July. This holiday commemorates all of the pioneers that came to the state and established settlements and cities.

Sundance Festival
Another popular festival that takes place each year in the state is the Sundance Festival. This is a very popular film festival that brings in many of the top actors, producers, and critics each year. For film lovers, nothing is better than coming to Sundance and being able to be one of the first people in the world to screen some of the top films, some of which to receive major awards and critical acclaim.

Training for NASA
Due to the unique landscape all over the state, it is also a popular training ground for those that are going to outer space or working on rover missions. The rocky terrain in the state is similar to what is found on Mars and those that work for the Mars Desert Research Station use the land as a training simulator for digging. There is also a permanent habit here where up to six astronauts at a time train to simulate what a mission to Mars may look like.

There are many things you didn't know about the state that makes it a unique and interesting place to live and visit. Those that come here can learn far more about the state, its history, and what it offers to those that come.