20 Things To Do With Your Family At Home This Weekend
Posted by Sam Dodd on Saturday, June 13, 2020 at 9:02 AM
By Sam Dodd / June 13, 2020
Comment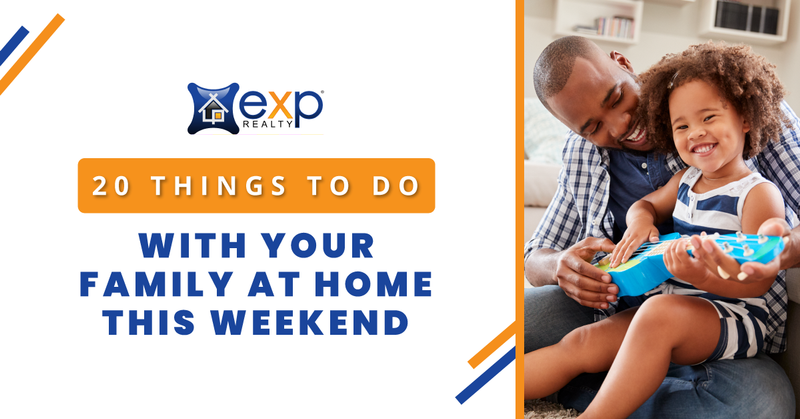 A lot of time on your hands can obviously lead to boredom. However, with a handy list of things to do at home with your family this weekend, there will be plenty of activities when and if boredom strikes. Here is a list of some staying at home activities everyone can partake in.
1.Work on a Puzzle
Puzzles are considered to be more of a calmer activity for those looking to enjoy something with the family that is rather mellow. Puzzles can take up a lot of time because you have to find the right pieces.

2. Sing Some Karaoke
For those that love to sing, get ready. Karaoke does not necessarily require you to have a singing voice. This gives the family the ability to bond with each other while laughing, and best of all fill everyone with joy.
3.Play Some Board Games
If you do not own any board games already, you can simply find them in the store. There are board games to suit everyone's preferences. It also gives the family a way to communicate and interact with each other. This an excellent way to spend time with your loved ones.
4.Dress in Costumes
What person doesn't like to dress up in costumes and party? This is perfect for families that have smaller children. However, this makes a great activity even without any children around. Every family member can dress up in their favorite costume whether it be a character or a certain time era.

5. BBQ
Regular dinners get pretty boring after a while. Spice it up a little bit and bring out the grill. If the weather permits, you can even have a family gathering BBQ in your own backyard. Consider gathering around a campfire (if one is available), and telling stories to each other.
6. Spa Night
Relaxing as a family is a great way to enjoy each other's company. Add some candles, and some nice relaxing music to create an atmosphere that everyone will enjoy. Give each other pedicures, manicures, facials, and even massages.
7. Design Jewelry
Designing some jewelry will probably require you to take a trip to a craft store to gather all the necessary supplies needed. There are also tutorials online that are easily accessible to get some good ideas on how to make earrings, and other beautiful pieces.
8. Indoor Picnic
This can also be done outside, again if the weather permits. Otherwise, create a suitable atmosphere indoors for a picnic filled with the sounds of the birds chirping and complete with a blanket and basket of food.
9. Movie Night
You can never go wrong with a good movie. Try agreeing on a movie that everyone would be interested in seeing and gather a variety of snacks and popcorn to enjoy.
10. Family Yoga
Another activity perfect for relaxing is yoga. Do a yoga class together or find some yoga videos online to pop on the TV that the entire family can watch and follow. Keep it easy for those who are not as experienced.
11. Scrapbook
Gather pictures that the family took together on different occasions and come up with a nice family story. Every family member can design their own scrapbook.
12.Dance Party
Do you want to stay active without leaving the house? Try having a dance party with your family filled with some of your favorite songs and plenty of dancing.
13.Talent Show
Give each family member the opportunity to showcase whatever talent they have. This calls for a lot of laughs and awesome performances together.
14. Family Video
Try to give each other interviews or share stories with each other. Record each other doing these things and add in some singing or dancing to spice it up.
15. Draw or Paint Together
Try choosing a theme that everyone can agree on and gather the necessary supplies to either draw or paint together. Think about a favorite activity or a family portrait.
16.Time Capsule
A time capsule can be created together that contains memories, notes, letters, and much more. Do not open it until the date written on the sealed product.
17. Bingo
No matter what your age is, you can never go wrong with bingo. There are a variety of bingo games online that can be printed.
18. Truth or date
This is a very popular game but can be played and enjoyed together with the family. This is a perfect opportunity for the family to engage and laugh together.
19. Look at old photos
Bring out some old family albums and explore the pictures together. Bring up stores about particular pictures to make it exciting.
20. Stargazing
Grab a blanket and gather together in the backyard to gaze into the night sky. Look at the stars and discuss what you see amongst each other.
Use these wonderful tips and activities to enjoy some family time together this weekend!