23 Awesome Ways To Stay Social While Social Distancing
Posted by Sam Dodd on Sunday, April 19, 2020 at 11:00 AM
By Sam Dodd / April 19, 2020
Comment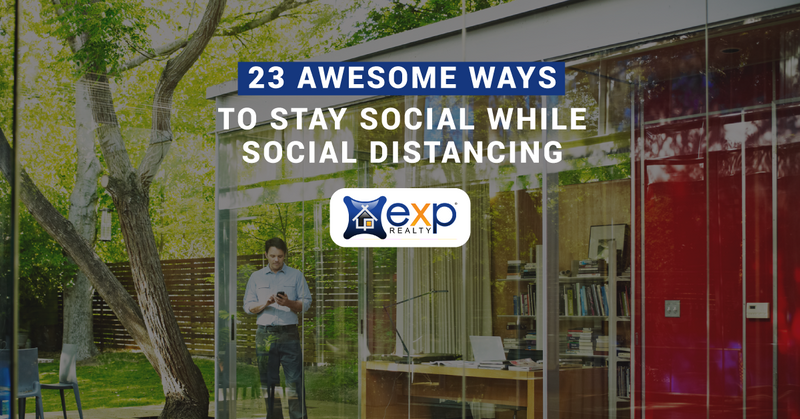 We, humans, are social creatures, so the idea of social distancing during the coronavirus pandemic feels so unnatural and even distressing to us. Even if you're an introvert, who prefers to spend time alone, you still thrive on social interaction. Experts worry that long periods of social distancing practice will have a serious negative impact on people's mental health and might even lead to severe depression and anxiety.
To avoid this, you need to stay social even under today's circumstances, and there are at least 23 ways to do that!
1. Have an online movie night with your friends
Pick a day and gather with your friends online to watch a movie together. Pull up a movie on Netflix or Amazon Prime, prepare snacks and drinks, and enjoy!
2. Play board games online
If you used to gather together and play board games, you still can do it online. If you already have a favorite game that you and your friends love to play, you can try to find its digital version online.
3. Stay in contact
Keep communicating with your friends, colleagues, and family members daily. Fortunately, modern digital space offers us many opportunities for staying in contact: you can do it by phone, email, Skype, or text.
4. Have virtual parties
Having a birthday during social isolation might be really upsetting and disappointing. However, it doesn't mean you cannot have a virtual birthday party. You can invite people all across the globe and have a good time drinking, laughing, and dancing together.
5. Have a workout buddy
Working out alone might be really boring. So why not find a workout buddy and do online workout sessions together? It's a great way to stay social and fit at the same time.
6. Volunteer virtually
You can still do good things for society and the community while staying home. Raise money for those in need, create a page on Instagram or Facebook to thank healthcare workers, or sign up for delivering meals.
7. Teach each other something new
It is a great time to exchange knowledge and skills. You can start an online cooking class, become a language teacher, or teach others how to dance. There are so many skills to learn and teach, so don't miss this chance.
8. Cook and eat together
How about having lunch or dinner with your friends online? Pick up a new recipe, cook it together and then enjoy your meal.
9. Discuss your future travel plans
We won't be able to travel any time soon. However, we still can put together a dream trip with your friends. Discuss where you want to go and what you want to see. Create a list of must-visit attractions and restaurants, find some pictures and exchange your ideas.
10. Have a monthly book club meeting online
You've finished reading your book and ready to discuss it with others, but the monthly book club meeting is canceled? Then just have it online. It's a good reason to gather together and discuss something exciting other than the pandemic.
11. Host a dance party
Dancing together is an amazing idea for communing and having fun together. Moreover, it is also a good workout that doesn't let you turn into a couch potato.
12. Have a family time
Before the coronavirus pandemic, we all had busy lives and didn't spend enough time with our family. Now it's time to fix this. You can do a lot of things and family projects together, including arts and crafts, board games, reading, drawing, and etc.
13. Connect with like-minded people
It's also a wonderful time to make new friends. There're many apps and forums allowing people with the same interests and experience to gather together to discuss things.
14. Go outdoors
Social isolation does not mean that you have to stay in a house 24/7. You still can go outside for walking, hiking, and jogging, as long as you keep a 6-foot social distance.
15. Spend technological-free time with your loved ones
When was the last time when you spent a quiet and relaxing time with your loved one with your phone turned off? Now you have a great opportunity to talk, to discuss future plans and reconnect.
16. Communicate with your coworkers
Many people are working from home now and are not seeing their coworkers every day. It doesn't mean you shouldn't communicate with each other. Make sure to set up a weekly online meeting with them to ask how are they doing.
17. Walk with your dog regularly
Walking with your four-legged buddy and strolling through the neighborhood allows you to talk to your neighbors and other dog owners. Just don't forget to keep a safe distance.
18. Talk with your friends oversees
Our regular busy life doesn't let us talk to our distant friends regularly. But now, when we have more time, it's a good idea to text a message to one of your high school friends who you haven't seen for years.
19. Make a 5-year plan
Get together with your partner and create a 5-year plan for your family. Discuss your future plans, dreams, values. Dreams can even include buying a new home in Milford or a vacation home in the mountains. Dreaming and hoping together will help you to focus on the future and think positive.
20. Start a Youtube channel or blog
By starting a channel or blog you can share your skills and knowledge with others and connect with the rest of the world at the same time.
21. Start a garden
Gardening is a great stress-relieving activity. Ask your family members what they want to grow, order seeds online, and start your own garden. Gardening will give you all a common purpose and make a family stronger.
22. Make a handmade gift for friends and loved ones
Get crafty with painting, making jewelry, knitting, sewing, or scrapbooking. Make little nice gifts for your family and friends and mail them to them.
23. Do an online course
There're so many opportunities and resources online offering online education for free. EdX, for example, offers over 2,500 different courses from top-notch educational institutions, including Harvard, Berkeley, and others. You'll not only learn something new but also get to know new classmates and feel like a student again.
Staying social today is as important as staying healthy and safe. Hopefully, the ideas for social interaction in this article will make your life more meaningful and happier.