5 Questions To Ask A Realtor When Buying a Home
Posted by Sam Dodd on Friday, July 17, 2020 at 1:24 PM
By Sam Dodd / July 17, 2020
Comment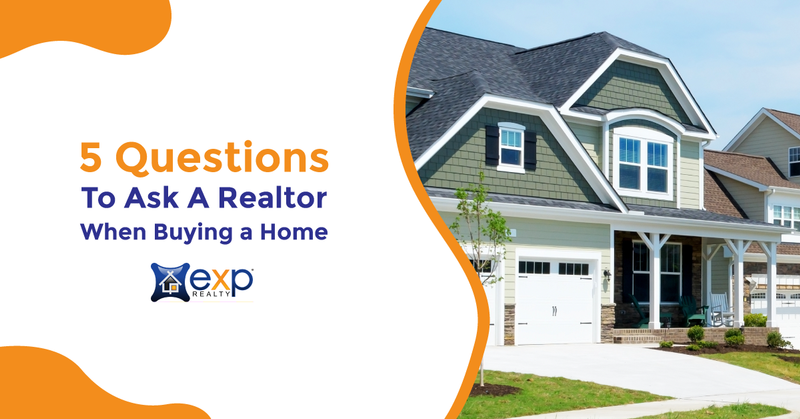 Whether you're buying your first home or you're searching for your dream home, the home-buying process can be both exciting and frustrating. Exciting because you're touring homes that could become your very own; frustrating because, in many cases, the homes you think you like have hidden issues that don't show up in the pictures on the real estate websites.

The bigger problem is that the frustrating parts of buying a house can become complete disasters if you overlook them. The good news is that, by and large, if you ask the right questions during the search process, you can avoid many of these frustrations and ensure you complete the purchase process quickly. To help make your next home purchase more enjoyable, here are five questions to ask a realtor when buying a home.
How Much Experience Do You Have?
Before you can ask your realtor about potential homes, it's important to ask your realtor about themself. Learning more about your realtor can help you get a feel for how the purchase process will play out.

One of the most important qualities of any realtor is how much past experience they have with helping clients buy and sell homes. To be sure, everyone has to start somewhere. However, when it comes to a major purchase like a home, it's usually preferable if that "somewhere" isn't you.

An experienced realtor tends to be more helpful when it comes to things like price negotiations and contract addendum, which can save you a lot of money and headaches during the course of owning your home.

Are There Any Comparable Houses in the Area?
Short of having a certain home appraised, it can be difficult to know if the price that's being asked is fair or not. One way to get a good feel for the price of the home, though, is to have your realtor get you a comparative market analysis report. This report analyzes the sale prices of several nearby homes that are similar to the one you're interested in.

If the sale price of the home you're looking at falls in line with similar homes nearby, then it's likely that the sellers aren't too far off. If there are discrepancies, it's important to investigate further to see if the asking price is too high or if there are legitimate reasons for the higher price.

What Would Keep You From Buying This House?
Real estate agents look at a lot of homes. After a while, they get a pretty good feel if a home is worth buying or not. Therefore, once your agent has had a chance to get to know you and the homes you're interested in, it's okay to ask your agent if there's anything that would keep them from buying particular homes.

It may be that there are no red flags, and everything is good to go. However, your agent may notice potential problems, such as an old roof, a leaking water heater, or a major design flaw that would make the house a bad buy or at least a bad buy for you.

Is This a Fair Offer?
As a buyer's agent, your realtor is responsible for putting your interests first. This includes ensuring that you're making a fair offer that is fiscally responsible for you and has a reasonably high chance of being accepted. It's important, then, that you ask your realtor about potential options for offers to ensure you get a good deal and get the house you want.

This includes things like asking for concessions, offering a lower price, proper negotiation skills, and so much more. By consulting with your agent, you can ensure that you don't insult the buyer with your offer to the point that they don't consider any further offers from you. At the same time, your agent will be a good judge of just how much you can squeeze out of the buyers, given the asking price of the home.

Is There Anything Else We Can Do?
Once the offer has been signed, the ball is no longer in your court. However, once the offer has been accepted, it is at least partially up to you to determine how fast the closing process happens. That's why it's a good idea to ask your realtor if there's anything further you can do to help speed the process along.

Whether it's signing papers in the office or electronically, providing necessary documentation, or completing important steps such as the home inspection and appraisal, your agent can guide you along to help you get in your new home as quickly as possible. With so many clients, though, it is sometimes difficult for your realtor to reach out to you the moment a new document becomes available to sign. Therefore, it's perfectly acceptable to ask them so that they can check for you and provide you with more frequent updates.