9 Home Improvements To Add To Your Summer To-Do List
Posted by Sam Dodd on Tuesday, July 28, 2020 at 9:15 AM
By Sam Dodd / July 28, 2020
Comment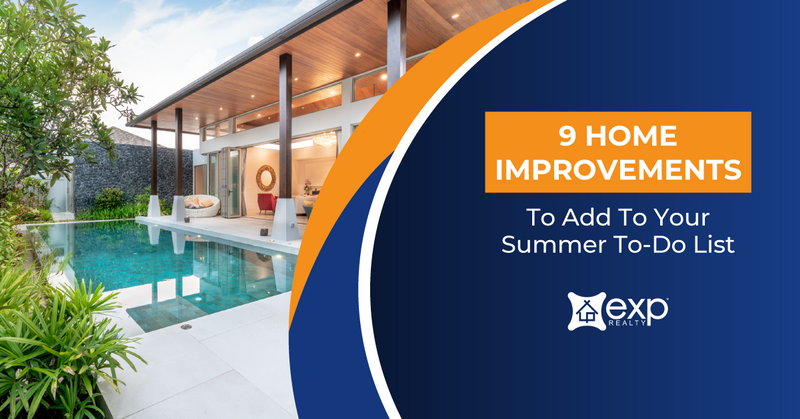 Home improvements are work no matter when you do them. However, choosing the most favorable time of year to do the work can make it easier and more enjoyable. We give you nine excellent home remodeling projects you can do this summer to improve your home and make it worth more money.


Clean The Water Heater
Many people do not realize that the water heater builds up layers of debris. Sediment settles in the bottom of the tank as the water heater fills up and empties. The minerals drop because they are heavier than the water. To clean this out, homeowners need to empty the tank and drain the sediment out.

This task should happen once a year. Some people need to do it more often because they have extremely hard water issues. The sediment will damage the tank and cause the element to burn out faster when the material is left to build up year after year.


Update The Kitchen

While a major renovation may only give you about 75 percent back, this job adds appeal. The key is to replace old items and be frugal with the upgrades. Spend money on functional items before you go for flashy things. Necessary items are bringing near 100 percent returns says HGTV.


Build an Outdoor Cook Station

If you have always wanted an entertaining space outside, then building an outdoor kitchen might be a great idea this summer. Adding a place to cook and serve food to guests and family members is a fantastic way to extend your living space. It will give you more reasons to entertain and have dinner parties. Any renovation adding functional room adds value to your property.


Clean and stain the deck

One home improvement project people tend to put off is scrubbing and protecting the deck. Most of these boards need to have attended at least every three years. You should check out the deck for loose nails and screws, broken boards, and water damage each year. The wood needs sealing every once in a while to keep the wood from deteriorating prematurely.


Power Wash The House and Roof

You never realize how much dirt is on your house until you spray it down. A garden hose is not powerful enough to get the stickiest and toughest dirt off from siding or paint. To get the deep down mess off the building, a pressure washer is necessary. This tool needs to be at the right pounds per square inch or psi rating. Angie's List says to dial the pressure washer to 800 psi to get the dirt off and prevent chipping or breaking your siding. To clean driveways and sidewalks, you can dial up the power to 1,500 psi.


Fix Broken Siding and Shingles

Preventing water from getting into the interior layers of the home is vital to stopping major damage. These repairs are more costly than fixing surface issues like siding chips. Checking the home annually for cracks, broken materials, and other ways water can penetrate the home is critical for keeping home repair costs low over the long-term. By fixing exterior problems early, you can prevent deep water damage.


Add Ceiling Fans Inside and Outside

Do you need more ventilation in your home? How about having a large fan to push the air on the patio? Installing one of these items is not a big deal for most homeowners. The instructions come with the fan.

You can install a ceiling fan in about an hour. If you are unsure about working with electricity, then there are several contractors who will be happy to install one for an hourly rate. People planning to stay close to home for vacation are turning to these upgrades to make the house more appealing for year-round activities.


Fix Cracks in The Asphalt and Concrete

Your home improvements to-do list should include sealing up all your surfaces. Little cracks in your walkways and driveway get worse when you let them go over the winter. The ice and the freezing and thawing cycle cause these small issues to grow drastically. If you wait until the following year, then you may need a new driveway instead of putting a little caulk or sealer in the cracks.


Install New Windows

Keeping energy costs low means ensuring your home openings are snug with insulation. Getting new windows will create a tighter fit stopping air from leaking out of the house in the summer. In the winter, there will be much less cold wind getting indoors to create drafts and cause you to raise your thermostat.

Double pane windows and Low-e coatings increase the savings, but they also increase the cost. Look for the R-value on the windows, and this number will help you decide which products will give you the most protection and savings. The higher the number, the more the windows will keep out cold weather in the winter and the heat in the hottest part of the summer.


Bonus Tip - Inspect All the Major Home Systems

One of the best ways to improve your house is to make sure all the systems are in good shape. Your HVAC, plumbing, and electrical are important items that need to stay safe and running in top shape. Keeping these areas running efficiently will save energy costs and reduce your chances of costly emergency repairs.

Performing these home upgrades in the warmer months gives you a better opportunity to enjoy the work and get it done the fastest way possible. A little time cleaning up the flower beds, getting rid of weeds, and adding a new coat of paint can greatly improve your curb appeal and increase the property value even more. Bathrooms are an excellent place to spend some upgrade funds because these rooms get a lot of return on smart upgrades like new fixtures and faucets.