Everyone Else is Going - are Ewe?
Posted by Sam Dodd on Thursday, September 19, 2019 at 6:00 AM
By Sam Dodd / September 19, 2019
Comment
Cedar City Livestock & Heritage Festival
OCT. 24-27, 2019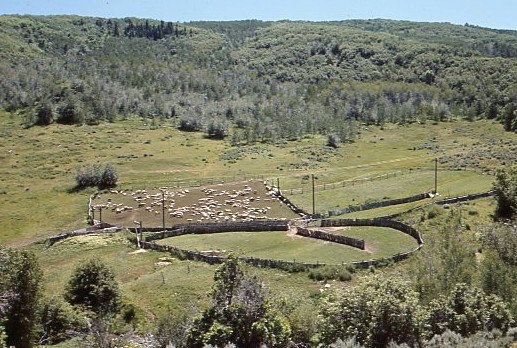 Sheep gather into a holding corral on Cedar Mountain to await transportation to winter range. Photo courtesy Your Content Queen, copyright 2019. all rights reserved.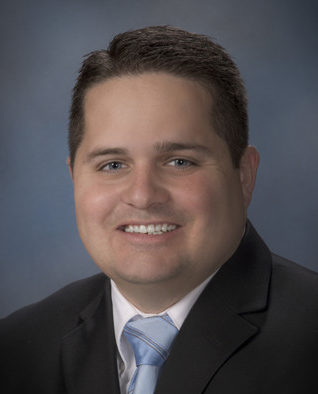 by Sam Dodd
People ask me why - of all the places in the world - I live and have a home in Cedar City, Utah. I prefer to think of it as "Festival City, Utah," and (at least for me) the upcoming Livestock & Heritage Festival pretty much sums up my deep love for this community. Stalwart people here truly take heroic measures to ensure our rich history is taught and treasured; but, they always keep their eyes toward the future and for this Iron County community, the future is bright.
The Heritage & Livestock Festival is just one of the many Cedar City activities that take place throughout each year - the Utah Shakespearean Festival, Neil Simon Festival, Rennaisance Faire and July Jamboree - are just a few that come immediately to mind. They're all special, lively, entertaining and fun. They all serve a purpose and they are all part of a rich culture I want my children to embrace. But this one, this one honors the very lifeblood that pumps through our collective throbbing heart.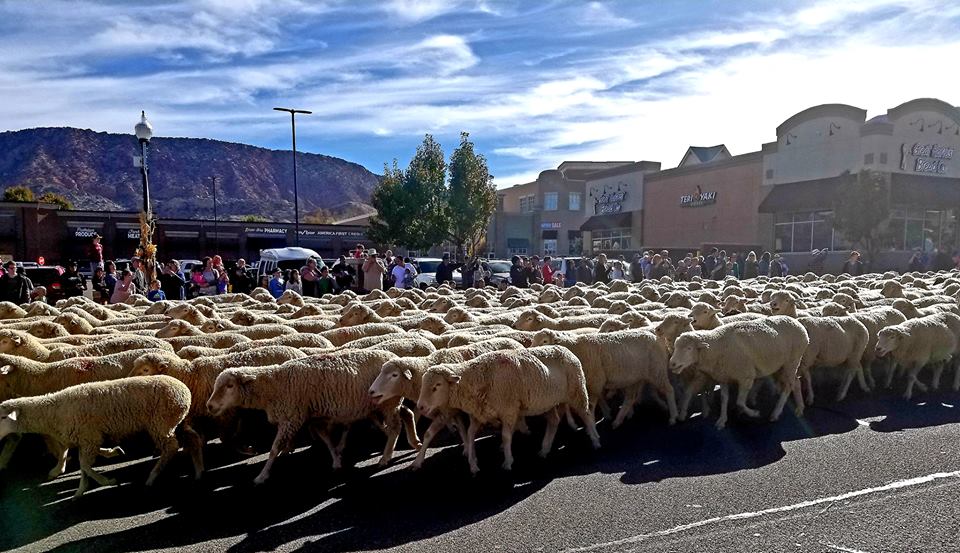 Sheep march down Cedar City Main Street in honor of the community's rich agricultural history. Photo courtesy Your Content Queen, copyright 2019, all rights reserved.
Ewe have got to see this.
The 2019 Cedar City Livestock & Heritage Festival will take place on Oct. 24-Oct. 27. This time is set apart to show respect for the farmers and ranchers who have worked so hard for generations to build what is now one of the state's most vibrant - yet, decidedly rural - communities. With the help of the Utah State University Extension office and countless volunteers, the festival was established to "Celebrate Cedar City's Rich Agricultural History."
The signature event (and a childrens' favorite) is the Sheep Parade scheduled to take place on Saturday, Oct. 26 at 10 a.m. According to the festival's official website it is "... one of the most unique parades in country. Approximately 1,000 sheep will be herded down Cedar City's Main Street. There will be historic sheep wagons, antique tractors, vintage cars, and so much more."
There's plenty more to experience during this three-day celebration including:
Cedar Chest Quilters' Quilt Show
Cowboy poets and music
Western vendors
Antique Tractor and Machinery show
Arena Stock Dog Contest
Junior Ranch Rodeo
Draft Horse Teamster Contest
Vintage Car Display
Kids' Pedal Tractor Pull
Dutch oven cooking tasting
Dennis Stowell Memorial Ranch Rodeo
Sheep lead contest
Cowboy Church
Livestock ranchers played an integral role in the settling of the West and no where is it more evident than in this town where they made it possible for early settlers (members of the Church of Jesus Christ of Ladder-day Saints arrived here in 1851). The town's first settlers enjoyed milk, butter, meat, wool and hides to clothe and keep them warm. Cattle, sheep, horses and fowl were raised to sustain people in an unforgiving high desert.
Although numbers of farmers and ranchers and their livestock have dwindled, those commodities are still primary sources of cultural wealth in and around Cedar City.
For a tentative schedule of events and more history about the livestock industry here, please visit www.cedarlivestockfest.com.